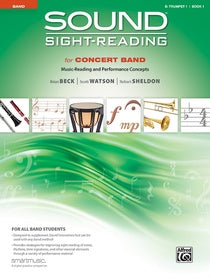 Sound Sight-Reading
Sale price Price $12.99 Regular price Unit price / per
Sound Sight-Reading for Concert Band, Book 1
Music-Reading and Performance Concepts
WE ARE OUT OF STOCK BUT YOU CAN PURCHASE THIS TITLE BY CLICKING HERE
Written by Brian Beck, Scott Watson, and Robert Sheldon, Sound Sight-Reading is a sight-reading method comprised of effective and efficient music reading strategies and fun sight-reading games and challenges to build player and ensemble skill decoding and executing music at sight.
This book is available in SmartMusic.
USING SOUND SIGHT-READING FOR ONLINE AND REMOTE TEACHING
Shipping only available in USA.