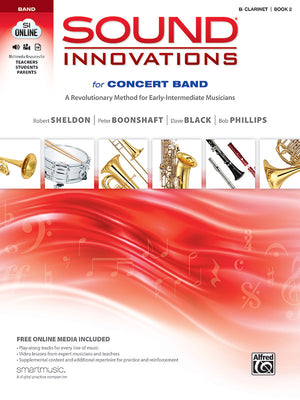 Sound Innovations for Band, Book 2
Sale price Price $9.99 Regular price Unit price / per
WE ARE OUT OF STOCK BUT YOU CAN PURCHASE THIS TITLE BY CLICKING HERE
One of the best-selling and most popular beginning band methods of all time, Sound Innovations for Band provides students and teachers with everything they need to achieve success.  The music is fun to play and engages the student with wonderful accompaniments. The video instruction continues through the entire book, clearly demonstrating every new concept and skill.  The layout of the book is clean and uncluttered allowing students to focus. SI Online provides free access to all of the audio and video content on any internet connected device, and also includes a vast array of additional materials including solo/ensemble/full band music, music history and theory, rhythm and technique pages, assessment and much more.  Learn more about Sound Innovations here:
https://www.alfred.com/sound-innovations-concert-band-book-2-overview/
This book is available in SmartMusic.
USING SOUND INNOVATIONS FOR ONLINE AND REMOTE TEACHING
Shipping only available in USA.